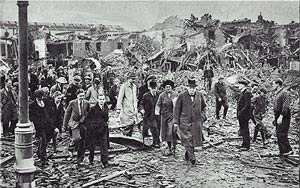 Wartime Winston: The unmistakable broad-framed (Sir) Winston Churchill heading the group in the centre of this scene of desolation at a Battersea neighbourhood following the explosion of a German land mine dropped by parachute on 10th September 1940. Closely followed by Herbert Morrison and Mrs Cripps, he is protected by a light-coated detective bringing up the rear. Survivors of the destruction who are identified in the picture include: Betty Curtis, Sidney Woodland, his sons Bill and Bert, Sid Ward, brothers Ray and Dickie Dickinson, and the local vicar. The area has since been redeveloped with blocks of flats and is now known as the Patmore Estate.
During the Second World War there were so many horrific raids on London by the Luftwaffe, but one particularly heavy bombing at Battersea still remains imprinted on the mind of a lovely 80-year-old lady.
It was a Sunday night, 10th September 1940, just two weeks before her planned wedding, when the young 20 year-old was at her fiancé's parents' house at 73 Mundella Street, preparing two rooms to be their first marital home.
Twice married Mrs Joan Bryant (formerly Woodland and nee Holman) takes up the story herself.
The raid started about 7 o'clock in the evening and it turned out to be a very bad night. As always we were in the Anderson shelter in the garden, but used to leave everything in the kitchen on a tray, ready to make tea. It looked as though we were going to spend the night in the shelter, my mother-in-law, my future husband and myself.
Suddenly, at about 11.40 pm, the action closed in.
There was a very funny noise outside, as though someone was shaking sheets, then a terrific explosion which went on for quite a long time, like a rumble, which we heard later was a mine attached to a parachute.
We couldn't get out, as the rubble was against the doorway of the shelter.
People were shouting, 'Get us out'. The wardens were speaking through megaphones to stay where we were and keep quiet. Eventually we were brought out. It was pitch black and we couldn't see a thing. Gas pipes had been fractured. Water mains had gone. Ambulances were trying to get through the debris.
When daylight came and we could see each other, we were so black with soot from the chimneys and all the dust. Mr Churchill and Herbert Morrison came around to see the devastation: there were so many streets flattened to the ground. Not long after, the Salvation Army came in vans supplying tea and sandwiches; everyone was so helpful.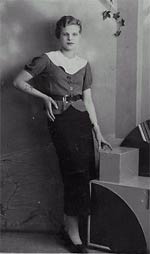 Sweet 16: Joan Bryant (formerly Woodland and nee Holman) pictured at Jerome's Photographic Studio, Brixton in 1936. This attractive young lady modelled for Peter Robinson's where she worked in the Small Size Gowns Department. She went to work there when her father turned her and her two sisters out of their home when he wanted to remarry.
(It soon became clear that six streets had been destroyed, including Thesally Square, Patmore Street, Stockdale Road, Mundella Road and Wadhurst Road where the local school was. With their houses gone, the survivors had to find fresh accommodation. Joan and her fiancée, Bert Woodland, whose marriage ceremony was fixed for two weeks time, lost not only their home and all their belongings, which was bad enough, but they lost all their expensive wedding clothes too.)
I had a friend who lived in Paradise Road in Clapham, so we decided to go round to her place; she was so shocked, but took the three of us in. We had baths, and borrowed clothes.
As luck would have it as we came away from her house, we saw a flat to let. We applied for it and the next day we paid a week's rent on it. It was partly furnished, so it was paradise to us.
(At the same time, Joan was instructed to leave her job at a department store and engage in war work in a Munitions factory.)
I had to go up to Peter Robinson's in Oxford Circus the next day and give in my notice.
(There was just a fortnight to go before Joan and Bert's wedding, which had been booked at the local St Andrew's C of E Church. But, alas, that too had been bombed. With their wedding clothes ruined and the church just a mound of rubble what were they to do?
They decided to carry on and get married. Hitler was not going to stop these two young people in love enjoying their special day.)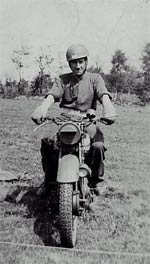 Wartime patrol: Joan's first husband, Bert Woodland, snapped on his army motorbike in the Western Desert c 1944. Note the blackout cover on the headlamp for directing a narrow beam of light downwards.
We had to make different arrangements for our wedding, and had to postpone the date. Finally we were married at the registry office, Southlands College in Battersea High Street on October 19th 1940. As my husband had deferment for his call-up he finally got his papers in February 1941. He had one leave before the embarkation leave and went abroad in October 1941.
(He had to serve abroad for an extended period, and it was to be five long years before he would see Joan again.)
My eldest daughter was born on 12th July 1942; she was four years old when he came home in 1946. By then I had a nice maisonette.
(Joan added this anecdote: -)
My future brother-in-law had managed to pick up the stub of Mr Churchill's cigar. My mother-in-law and I stayed together through the rest of the war; she was wonderful and helped me so much with my baby. I had lost my own mother when I was just sixteen.'
Sadly, Joan lost her first husband to cancer in 1970 after 30 years of happily married life. She later married Reg Bryant in 1983 and they too are enjoying a contented partnership, in the south coast town of Worthing.
| | |
| --- | --- |
| Forties mum and toddler: Joan Bryant (formerly Woodland and nee Holman) photographed with her daughter Audrey, late 1943 aged 18 months. | Essential maintenance: Bert Woodland attending to an army lorry in Germany, 1945 |