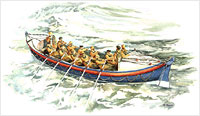 A Town's PrideThis unique water colour is a true to life portrayal of the Worthing Lifeboat Henry Harris and crew returning from the wrecked steamship Indiana on 1st March 1901. Facing North-East from the far end of Worthing Pier, a Victorian photographer captured this exiting scene in monochrome.
Now beautifully enhanced by Sussex artist Richard Marsh using characteristic colouring, the result is remarkable. Wave motion can almost be felt.
The overall effect is stunning. The detail astounding. Each strip of cork in the crew's lifejackets has been meticulously picked out. Even the twisted strands of rope forming the lifeline looped along the side of the Lifeboat invite scrutiny.
Thirteen crew manned the boat. Standing forward is bowman Steve Wingfield. Pulling at the oars are crewmen Mark Marshall, George Wingfield, Harry Blann, George Newman, William Wells, Joe Street, George Benn, George Belton, Frank Collier and William Cousins. While commanding the stern is Coxwain Harry Marshall wearing a sou'wester and controlling the rudder by means of a yoke line over each shoulder. Next to him stands his assistant, Second Coxwain Bill Blann.
Held in high esteem by their national executive, Worthing's Lifeboatmen were indeed the town's pride.
Reproduced as a Limited Edition Print, there will be just 850 copies worldwide, individually signed and numbered by the artist.
Image size: 13 inches X 7½ inches
Price £25.00 (plus £2 p&p) (for delivery to U.K. addresses - please e-mail if overseas delivery required)
Part of the proceeds are donated to the RNLI (Royal National Lifeboat Institution), a voluntary body relying entirely upon public donations.
Alternatively if you do not wish to order online then please make cheques payable to Rob Blann and send order to:
Rob Blann
Monkey Puzzle Cottage
64 Rose Walk, Worthing
West Sussex BN12 4AT
United Kingdom