1970's - The Sizzling Seventies
Glam Rock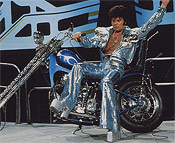 Although David Bowie was the Godfather of Glam Rock, he quickly transcended it to become a giant of grown-up rock music. Marc Bolan, a former male model from Hackney, threw off the bopping elf image he'd had as part of T-Rex, donned face glitter and a feather boa, and scored hit after hit.
Meanwhile, one Paul Gadd changed his name to Gary Glitter and, roaring sledgehammer sentiments over deafeningly clumpy rhythms, became a hit, while sporting flared trousers and platform shoes that typified the period's fashion. Sweet, a bunch of satin-clad 'boys next door' with a devastating line of jukebox anthems, were the archetypal Glam Rock group.
Wolverhampton gave us Slade, four boisterous rockers fronted by Noddy Holder. A rare female presence among the Glam Rockers was Susi Quatro. While most Glam Rockers faded from view, other artists of the time, such as Rod Stewart and Elton John, became major mainstream stars and stayed at the top of their profession.
Punk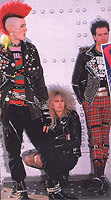 Punk saw the urban young protest at growing unemployment and an over-packaged, over-indulgent music industry. Their music was hectic and raw, the look defiant and masochistic, the atmosphere a mixture of self-disgust, anarchy and violence.
Outsiders were uncomprehending and appalled. But beyond the safety pin stuck in the cheek, some saw positive yearnings. A whole generation rallied by the sound of the Sex Pistols, The Clash and The Damned, and energised by the concepts of designer Vivienne Westwood and music entrepreneur Malcolm McLaren, appeared to be smashing its way out of despair.
The style of punk fashion was intended to offend the conservative and the politically correct. The slogans were also designed to annoy. -- "Create hell and get away with it." Yet they reveal another side of punk: as a reaction against alienation, a consciousness on not fitting in, and a desire to belong together. "At certain times of the day, there are only us."
Royal Wedding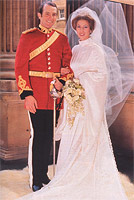 In 1973 Princess Anne married Captain Mark Phillips of the Queen's Dragoon Guards, and the Queen subsequently became a grandmother for the first time in 1977 with the birth of Peter. Not only did Anne and Mark share a passion for horses, they were both world-class riders
Anne had been voted sports personality of the year in 1971. Afterwards with the help of Mark, she pursued loftier ambitions. In 1976 she was a member of the Three Day Event team at the Montreal Olympics. Although she failed to distinguish herself, she did earn praise for competing the course, despite having fallen.
Always close to their children Peter and Zara, Anne and Mark have been role models in how estranged couples should behave after their divorce.
Silver Jubilee
There were celebrations throughout the land, not just in London. Many houses were decorated with bunting and displayed portraits of the Queen in their windows, while towns and villages held street parties or organised processions of floats on the theme of 25 years of British history.
The parties continued well into the night after the official celebrations were over. Critics were stunned by the gigantic turnout on the streets. Jubilee fever struck far and wide, with magazines, plates and even food packaging available as printed souvenirs.
Strikes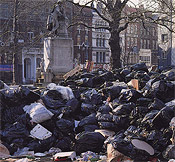 In the so-called "Winter of Discontent", dustmen all over the country went on strike. Open spaces throughout the land were designated as emergency waste-holding places -- temporary dumps for refuse in black plastic bags by another name.
Rubbish piled up high in Leicester Square as dustmen went on strike for better pay. Many of London's open spaces, including Clapham Common, were turned into temporary tips.
The 1970's saw many strikes -- mineworkers, dockworkers, printworkers, local authority workers, and carworkers, to name but a few. After the Tories came to power, in 1979, under the leadership of the legendary Margaret Thatcher, the country's first lady prime minister, they gradually shifted the balance of power away from the over-confident unions, and strikes gradually diminished.
Comedy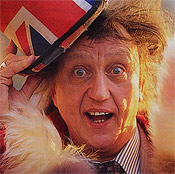 The 1970's saw some great comedy double acts, including Morecambe and Wise, Ronnie Barker and Ronnie Corbett, Peter Cook and Dudley Moore, and solo comedians like Stanley Baxter, Dave Allen (who always had a smoking cigarette in his hand, and childlike Charlie Drake, who all kept us laughing.
Television also produced such amazing sit coms as "On the Buses", "Are You being Served", "Whatever Happened to the Likely Lads?", and "The Fall and Rise of Reginald Perring" with Leonard Rossiter.
Other funny men included wild-haired Liverpudlian Ken Dodd, king of the Diddy Men; Less Dawson; Jimmy Tarbuck; and camp comedian Larry Grayson. Ex-Python John Cleese made a whole new career as a solo performer with the ill-mannered seaside hotelier-from-hell Basil in the classic series "Faulty Towers".
Heatwave
In the summer of 1976 Britain experienced the longest and hottest summer on record. Lack of rainfall and searing sunlight caused lush green lawns to burn and shrivel into dead carpets of brown wasteland while gaping cracks appeared in the parched soil. Hosepipe bans and water shortages were common in many parts of the country, although the story was different in rainy Scotland where there was still an abundance of stocks in the reservoirs.