1980's - The Thatcher Years
The New Romantics
Adam Ant was a punk in decline when he was given a makeover and specialised characters – now highwayman, now a pirate captain, now Prince Charming. Just as dedicated to image were Spandau Ballet, founded by Martin Kemp and his brother Gary.
Culture Club shared the flamboyance of the New Romantics and the enjoyment of dressing up. The dandyism of the New Romantics was the answer to a video-maker's prayer. The five smouldering lads who formed Duran Duran were supremely confident of the image they wanted to create and never had a hair out of place.
Also conscious of his image was Gary Numan, who blended New Wave and disco to produce a distinctly robotic style of hits. Boy George, Marilyn and Spandau Ballet began their climb to success at the Blitz which became the headquarters of the New Romantics.
Power Dressing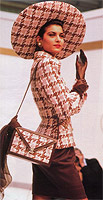 The 1980's was the decade of the career woman and, like Margaret Thatcher, she had ambition, drive and commitment. Eager to be recognised as an equal in the workplace, she adopted masculine tailoring with a touch of hard-edged femininity.
Thus evolved 'power dressing', typically comprising a suit with large shoulder pads and a short skirt, red lipstick, black briefcase and high heels. This was the era of conspicuous consumption and nowhere was this more evident than in fashion, where labels defined status and wealth.
Embodied by style icons Alexis (Joan Collins) and Krystle (Linda Evans) in TV's Dynasty, it will remain synonymous with the eighties, for the big-shouldered power suit didn't survive into the 'caring, sharing' 1990's.
Live Aid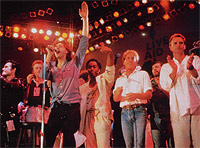 Through a mixture of Celtic Irish charm and driven humanitarianism, Boomtown Rats singer Bob Geldoff pulled off the single most uplifting event of the decade. In the name of relief for the famine devastating millions of Ethiopians, Geldoff had chivvied, sworn and hustled.
The end result was a globally televised 16 hour pop marathon at Wembley, involving many of the top groups and singers of the time. Like any good party, Live Aid had its unforgettable moments, among them the performances of Phil Collins, Tina Turner, Queen and U2.
The main image, though, on this July evening in 1985, was of a haggard Bob Geldoff imploring the audience for money. This Saturday night, he said, forget the pub. Viewers responded with a staggering amount of donations worldwide, amounting to more than £60 million worldwide.
Margaret Thatcher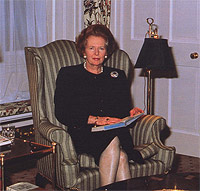 It was in May 1979 that the grocer's daughter from Lincolnshire arrived at Number Ten quoting gentle Saint Francis Of Assisi. Discord would be replaced by harmony, she said; despair by hope.
When she was ousted by her own party more than 10 years later, as Britain's longest serving prime minister of the century, it was clear she would be remembered not for her gentleness but for her power, wielded in the single-minded pursuit of her vision of a renewed Britain alive with enterprise, respected around the world.
She had no doubt earned her reputation as the Iron Lady (a name bestowed on her by the Russians). In her own way she made a determined trek from the high-inflation, strike-torn seventies in search of a dynamic economy with minimum state intervention and maximum free enterprise.
The Great Storm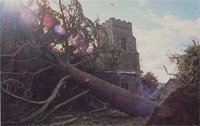 Eighteen people died and 110 mph hurricane-force winds tore up trees by their roots during an unprecedented storm in southern England during the night of 15 October 1987. Walls collapsed under its strength and even flat roofs from some blocks of flats and garages were ripped off.
Emergency services struggled for days to clear roads, restore telephone lines and power. Damage was estimated at about £600 million. The face of the countryside was changed forever, with the loss of thousands of trees; and the appearance of towns and villages was dramatically changed overnight.
London's Kew Gardens lost a third of its trees and six of the historic namesake trees of Sevenoaks, Kent were destroyed. A computer error meant the Meteorological Office failed to predict the storm. A spokesman said: "We should have got it better."
Comedy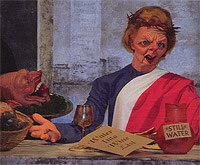 The rise of 'alternative comedy' in the 1980's changed the face of British entertainment. Amid a climate of union strikes, civil unrest and increasing frustration with a Tory government, its roots were firmly in left-wing politics.
One of the most popular shows was the satirical 'Spitting Image', in which brilliantly-crafted puppets delivered lines written by the best alternative comedy writers. The humour was cutting and vicious, and celebrities and politicians from all parties were ridiculed.
Character comedy flourished, too. Among Harry Enfield's stable of characters was 'Loadsamoney', who embraced the ideals of the materialistic Eighties. Sitcoms, too, had a new edge, the best of which was probably the sublime, off-the-wall 'Blackadder'.
Lady Diana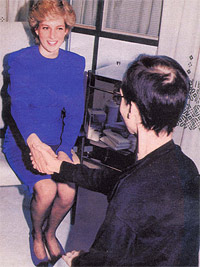 In July 1981, Prince Charles, the 33 year-old heir to the throne, married Lady Diana Spencer, who was 12 years his junior. The ceremony was screened the world over to a huge audience of some 750 million people. A devoted mother, she bore two sons, William and Harry, in 1982 and 1985 respectively.
By the late eighties, Diana had tired of the role of fairytale princess and was becoming increasingly frustrated with traditional royal duties. Amid marital problems she turned her attentions to less fortunate people, whose interests society ignored.
Wherever she went in the world, the Princess was happy to set aside her tremendous allure and glamour to follow her true vocation to help those in need. She preferred the hands-on approach, a direct link with those isolated physically as well as emotionally, such as sufferers from AIDS and HIV.