Lancing lady Mrs Evelyn Farrant (nee Lisher) recalls the days when her forebears delivered supplies to villagers.

I start my story with my great-grandfather, George Lisher, who was born in 1840 (three years after Queen Victoria came to the throne) and just before the railway came to Lancing in 1845. He was only 17 years old when he married Louisa Parsons, and they lived in Dankton Lane, Sompting.

A foreman at Pullenbury's Nursery, he had five sons and three daughters, the youngest being born 16 years later than my grandfather, George Lisher, who was born in 1837 (a year after the end of the Crimean War and just before the American Civil War).

Grandfather married Emma Peters and lived in a small house in Salt Lake (Freshbrook Road today). They had 5 sons and 4 daughters, the last two born, both girls, died of diphtheria before the age of 5.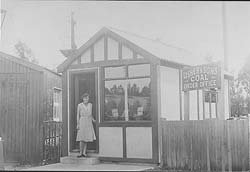 Lisher & Sons coal office by the station in Sompting Road in the late 1920s. Mary Lisher is pictured in the doorway. Note the price of coal: 46/- and 49/- per ton.
We now come to the development of the Coal Business. Grandfather, George Lisher, was offered a job with the Lord of the Manor but he was courting Emma Peters and her father asked him if he would work for him in his coal merchant's business. George agreed.

David Peters was running the business from the south side of the railway line near Lancing station - Ham Lane. He had hoped that a son who emigrated would take over the business. Another son, Thomas, although working in the business, wasn't capable of taking on management.

So it transpired that George Lisher and Thomas Peters took over the business which became known as Lisher & Peters. When George Lisher's son Hubert left school he worked in the business, which later became Lisher & Son.

As well as delivering coal, a lot of haulage work including house removals was undertaken, and they also hired out their horses for ploughing.

As I remember the coal business, it was from the north side of the railway line, with an entrance to the sidings, and a wooden hut used as an office. The stable was in Sompting Road, and in 1930 an office was built.

My grandfather George died in 1935, aged 77 years. My uncle, Herbert Lisher, then took on the business. His sons, Frank and George, were now working in the business, and daughter Mary worked in the office. A pair of houses was built in Sompting Road, and Hubert lived in one.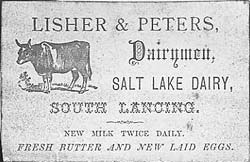 Lisher & Peters business card
The business was eventually sold to the Shoreham Shipping Co, which was later taken over by Corralls of Worthing.

My grandfather had started a dairy business early on as well. When he who was working for his father-in-law in the coal business, he had insufficient money to keep his family, so, with the boss's son Tom Peters, bought some cows to supply milk for the family, and also to sell to the public.

I remember the sheds in Salt Lake where the cows were housed. George would milk them before going to work, and then the second daughter Mary (Polly) would take cows across the railway line to the fields to graze. The elder boys delivered the milk. When the eldest son Arthur left school he took on managing the milk business.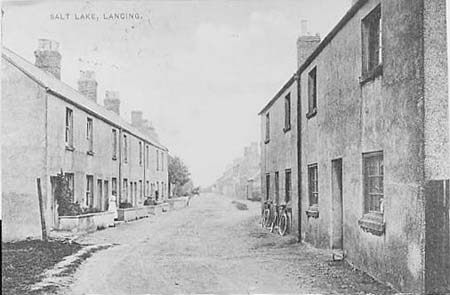 Salt Lake, now Freshbrook Road, looking south-east. The terraced houses on the left still stand.
When he married, he lived at Ebenezer Villa, where David Peters had lived, and had a building at the side of the house as a dairy, where cream was made. Chickens were kept and eggs sold, so the milk business flourished.

My uncle would deliver the milk on a handcart with a churn, dipping in the measures according to customers' requirements, and tipping it into their mugs. Of course, milk was not sterilised in those days.

As I mentioned, my uncle Hubert of the coal business moved into a newly built house in Sompting Road, so my uncle Arthur moved into an adjoining one. It had a shop where my aunty and cousin Dorothy sold milk, cream, eggs and other commodities. Later milk was delivered in half and one pint bottles, and a very flourishing business was developed.

Arthur's daughter Bessie married Tom Killick, who worked in the business. A bungalow, 'The Nutshell', was built adjoining the two brothers' houses. Arthur had 4 daughters but no sons. One daughter, Olive, married Alex Page, who started another business, but that's another story.

The milk business was sold to Fuente & Scarce, later taken over by Highfield Sompting Dairy which in turn was later bought out by Unigate (Cow & Gate Dairies).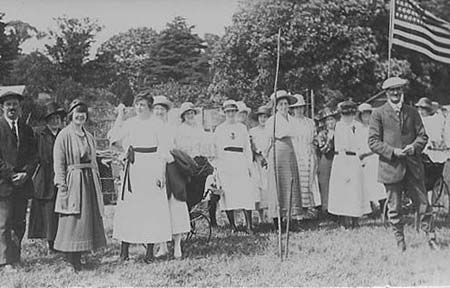 North Lancing Church fete 1881. Hubert Lisher is pictured right, playing hoopla.
This article was published in the West Sussex Gazette on March 8th 2001.


To add a comment you must first login or join for free, up in the top left corner.