Click on an image for further details
Worthing in old Picture Postcards

Be transported on a journey back in time. Imagine you are a visitor arriving at Worthing's main railway station, about to be taken on an inspirational tour of old Worthing. For your enjoyment Rob has carefully selected 140 picture postcards and period photographs, mostly from his own collection.

The selection covers an area south of the railway from East Worthing and as far as West Worthing, and includes glimpses of not only how the townscape has fared during the period from the late 19th century up until the Second World War, but also showing the differing styles of dress and costume, as well as reflecting cultural and social changes.

Price: £14.99 (plus £1.95 p&p) A5 size hardback NOW REPRINTED !!


* * CLICK HERE FOR MORE DETAILS * *



The trilogy of a special lifeboat town and its fascinating folk


This truly inspirational set of 3 books (A4 size) all about an extraordinary lifeboat town and its vibrant people, written by Rob Blann to commemorate 100 years of Worthing lifeboat crews, is a must-have for those interested in Worthing's past in words and old photographs, as well as for lifeboat enthusiasts.

Rob thoroughly researched the absorbing history surrounding the seaside community of his home town on the south coast of England, and set out to write just one book on this illuminating age to raise money for the Royal National Lifeboat Institution (RNLI) but managed to unearth so much intriguing information and so many previously unpublished photographs that what began as one book turned into a trilogy, a real labour of love.

A Town's Pride: Victorian Lifeboatmen & their Community



A Town's Pride, the first in the trilogy, becomes a dramatic and informative insight of a seafaring community during the latter half of the 19th century; in which true stories reveal the lives and times of fisherfolk in a close-knit neighbourhood.

Featuring a Lifeboat Station from its inception, A Town's Pride guides the reader through every exciting rescue mission, into each lifeboat parade, and describes sailing regattas, all in great detail.

For anyone with a love of the sea and a desire to learn of their nautical heritage, then this fine book created with personal pride and great feeling is something to read and to cherish.



Price: £9.95 (plus £3.50 p&p) A4 size

** CLICK HERE TO BROWSE A COMPREHENSIVE INDEX TO THE BOOK **

Part of the proceeds from this publication go to the Royal National Lifeboat Institution (RNLI).



Edwardian Worthing: Eventful Era in a Lifeboat Town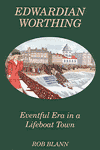 Edwardian Worthing, the second book in the trilogy, covers the period between 1901 and 1914. These Edwardian times often proved to be exciting for both residents and holiday-makers alike in this premier seaside resort.

Whenever the Lifeboat was launched, hundreds, sometimes thousands passionately flocked to witness the men of valour.

Life in this class-conscious society is carefully illustrated throughout this exclusive review.

More than 200 Edwardian photographs have been improved electronically to produce images which enhance the quality of the pictures within this book.



Price: £12.95 (plus £5.00 p&p) A4 size hardback

** CLICK HERE TO BROWSE A COMPREHENSIVE INDEX TO THE BOOK **

Part of the proceeds from this publication go to the Royal National Lifeboat Institution (RNLI).



Vintage Worthing: Images of a Lifeboat Town



Vintage Worthing, the third book of the trilogy, covers the period from 1914, through two world wars, and an epilogue brings it right up to the present day.

Using a central theme of Worthing's lifeboat service and the people involved, Vintage Worthing seeks to explore the social development and expansion of the town as well as providing a unique pictorial record of the era.

Vintage Worthing makes essential reading for those interested in Worthing's history, both onshore and offshore.



Price: £14.95 (plus £3.50 p&p) A4 size

Part of the proceeds from this publication go towards the Chestnut Tree House Children's Hospice and also to the Royal National Lifeboat Institution (RNLI).

** CLICK HERE TO BROWSE A COMPREHENSIVE INDEX TO THE BOOK **



Limited Edition Watercolour Print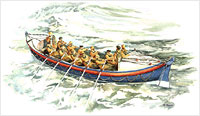 To commemorate 100 years of highly esteemed Worthing Lifeboating this unique watercolour was issued, a true-to-life portrayal of the Worthing Lifeboat Henry Harris and crew returning from the wrecked steamship Indiana on 1st March 1901. Facing North-East from the far end of Worthing Pier, a Victorian photographer captured this exiting scene in monochrome, which has now been exquisitely enhanced by a Sussex artist. Each of the 13 crew members has been identified and individually named.

Price: £25 (plus £2 p&p)

Part of the proceeds go to the Royal National Lifeboat Institution (RNLI).

* * CLICK HERE FOR MORE DETAILS * *



Worthing At War: The Diary of CF Harriss



A fascinating window has been opened on Worthing's wartime past by the publication of a stunning diary. The 206-page book is based on the day-to-day experiences of a retired solicitor who lived in Rectory Gardens, Broadwater.

CF Harriss (correct) witnessed dramatic incidents such as Battle of Britain dogfights and devastating German bombing raids on the town. He also chronicled the arrival of child evacuees from London, the sometimes unsavoury antics of Worthing's boisterous Canadian garrison, the build-up to D-Day, and VE and VJ Day celebrations.

Mr Harriss had an acute eye for detail, and saved from oblivion casual conversations in Worthing's cafes and food queues. He wrote: "It was written at the time and supplies an exact and vivid record of wartime life, a true and intimate example, in the colour of the moment, of what ordinary citizens felt, thought and said." Brought up in the late 19th century, Mr Harriss retained a Victorian outlook on life, and could be somewhat snobbish.

He and his wife Florence were undoubtedly curtain-twitchers who looked down on many of their neighbours. Mr Harriss hated the sight of women smoking, wearing trousers, or painting their lips red. He admired the Germans for their fighting skills and tenacity, but also despised them for their cruelty. His cutting but often poetical observations of everyday survival were set against a running commentary on epic global events.

A particularly glorious diary entry, written in October 1943, noted: "The sky last night was wonderfully alight with stars. "It seemed to glow and flash with a glorious riot of scintillating constellations – a spectacle of serene unfathomable loveliness and mystery."

Mr Harriss also captured the wartime atmosphere in places such as Brighton, Chichester and Bosham, which he visited despite travel restrictions imposed by the military.

The book is complemented by dozens of wartime photographs from the Walter Gardiner Collection, held by West Sussex Local Studies Library in Worthing. The unique set of images depict concrete blocks on the seafront forming a barrier to German invasion, gun emplacements, air raid shelters, and Worthing Home Guard's last parade on Broadwater Green.
Worthing At War: The Diary of CF Harriss, was edited by Argus reporter and Worthing Sentinel editor Paul Holden, 46.
It was serialised over 44 months in The Sentinel between 2004 and 2007. Holden said the diary was an astonishing legacy of the war from the perspective of a civilian observer who wrote beautifully, with flair, fluency and an exquisite turn of phrase.
The book, costing £14.99, has been published by Phillimore, and is available from all good local bookshops.
It can also be ordered online by visiting www.phillimore.co.uk